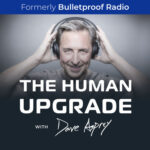 In recent media, neurosurgeon Dr. Marcella Madera offers insight into how to skip surgery, reduce back and joint pain, and create more fluidity within the spine, joints, and tissues.
As a featured guest on Dave Asprey's Webby Award-winning podcast The
Human Upgrade: "Relieve Your Back Pain in 4 Steps," Dr. Marcella takes a deep dive into the intersection of functional tissue mobility, movement, and mind-body healing made possible by the Aqua Method, a process that has allowed her clients to use their own bodies' powers of self-restoration.
The Aqua Method resides on four fundamental pillars – the Four R's: Reveal, Restore, Revitalize, and Revel.
Click here to learn more about the Four R's.
During a three-day intensive process that can eliminate surgery, clients work alongside AIS's gifted team to get answers and bring the body back into alignment and flow. The treatment includes a whole body evaluation by Dr. Marcella, Dr. Mattina, and Matt Lindamood using IV photobiomodulated (laser activated!) platelet rich plasma, functional tissue mobilization, performance rehabilitation physical training, and mind-body coaching for neuroplasticity.
PODCAST DESCRIPTION:
For a decade, Dave Asprey, "the father of biohacking," elevated what you knew about the capabilities of your mind and body across a thousand episodes of Bulletproof Radio. Now, he's evolving it even further in his plan to upgrade humanity. You're invited to expand your knowledge, explore your own performance and embrace possibility with The Human Upgrade™.
You'll meet bright thinkers and radical doers who push the boundaries of science, technology, personal development, and human performance in every way imaginable. You'll learn from experts around the world who elevate what it means to be human.
Every guest you listen to, every topic you learn about, every new idea you discover on this podcast moves you forward.
Join The Human Upgrade™ with Dave Asprey on this next evolution to upgrade your mind, body and life.